Specialized KENEVO COMP 2022 SATIN FOREST GREEN / PINE GREEN S2
?
The price contains loan payments and bicycle insurance
24 monthly instalments
Description
Kenevo je nejschopnější eMTB na trhu – s předním i zadním odpružením o délce chodu 180 mm, nejhladším a nejvýkonnějším motorem, se kterým zvládnete ujet na jedno nabití mnohem více kilometrů, než kdykoli předtím. Náš model Kenevo Comp kombinuje všechny nejnovější technologie s chytře zvolenými komponenty, které vydrží i ty nejnáročnější zacházení a podmínky. • Zcela přepracovaný rám Kenevo z hliníku M5, který je navržen asymetricky, s bočním ramenem a zlepšenou křivkou pohybu zadní osy, což dělá kolo mnohem ovladatelnější, takže ho budete mít více pod kontrolou a zvládnete těžší traily. • Tlumič Fox Float X nabízí 180mm citlivého odpružení, stejně jako nastavitelnou nízkorychlostní kompresi a odskok, které vám pomohou vyladit jízdu dle vašeho stylu a typu terénu. • Vzduchová vidlice Marzzochi Bomber Z1 poskytuje 180 mm plynulého, řízeného odpružení. Mezi její vlastnosti patří osvědčené tlumení FOX GRIP a vzduchová patrona EVOL. Jednoduché, spolehlivé a naprosto schopné řešení, které dokáže polykat kameny a kořeny, které vám přijdou do cesty. • Zakázkově vyrobený motor Specialized 2.1 představuje vrchol v technologiích e-kol. Nový motor je účinnější, o 15% menší a o 11% lehčí než jeho předchůdce. Má mnoho funkcí, které žádný jiný e-bike nemá, jako například okamžité spínání motoru, perfektní chlazení, dvojitou volnoběžku, která odpojí převodovku, když dosáhnete nejvyšší rychlosti, motor je tichý, hladký a má konzistentní chod – dokonce i při maximálním výkonu. • Nová baterie kola Turbo Specialized M2 má kapacitu 500Wh. Takto výkonná baterie je neviditelně integrována v rámu a lze ji během několika vteřin snadno vyjmout pomocí jednoho inbusového klíče. • • • • •
Rám: Specialized M5 Premium Aluminum, 27.5 Trail Geometry, integrated down tube battery, enclosed internal cable, Command Post routing, 148mm spacing, fully sealed cartridge bearings, 180mm of travel
Motor: Specialized Turbo Full Power System 2.2 Motor
Zadní tlumič: Fox Float X Performance Series, 230×62.5mm
Vidlice: 2021, Bomber Z1, 27.5in, Marzocchi, 180, Grip, Sweep-Adj, Matte Blk, Neutral/Matte Blk Logo, Kabolt 110, BLK, 1.5 T, 44mm Rake, N/M OE.
Brzdy: SRAM Code R, 4-piston caliper, hydraulic disc, 220mm • SRAM Code R, 4-piston caliper, hydraulic disc, 200mm
Kliky: Praxis forged M30, custom offset, 160mm
Přehazovačka: SRAM GX Eagle, 12-speed
Ráfky: Roval 27.5" Alloy DH, 28mm internal width, 32h, tubeless ready
Řazení přední: SRAM GX Eagle, trigger, 12-speed, single click
Řazení zadní: SRAM GX Eagle, trigger, 12-speed, single click
Pláště: Butcher Grid Gravity 2Bliss Ready T9, 27.5 x 2.6"
Sedlo: Bridge Comp, Hollow Cr-mo rails, 155/143mm
Baterie: Specialized M2-500, integrated battery w/rock guard, 500Wh
Kapacita baterie: Specialized TCU, 10-LED State of charge, 3-LED Ride Mode display, ANT+/Bluetooth®, w/Handlebar remote
Nabíječka: Custom charger, 42V4A w/ Rosenberger plug
Headquarters & Showroom
Showroom with e-bikes
and accessories.
Part of our headquarters is also an e-bike shop, service and presentation of accessories such as stands, chargers, GPS modules and software.
Contact us
Evropská 125
261 01 Příbram
Czech Republic

www.kolonaoperak.cz
Show on map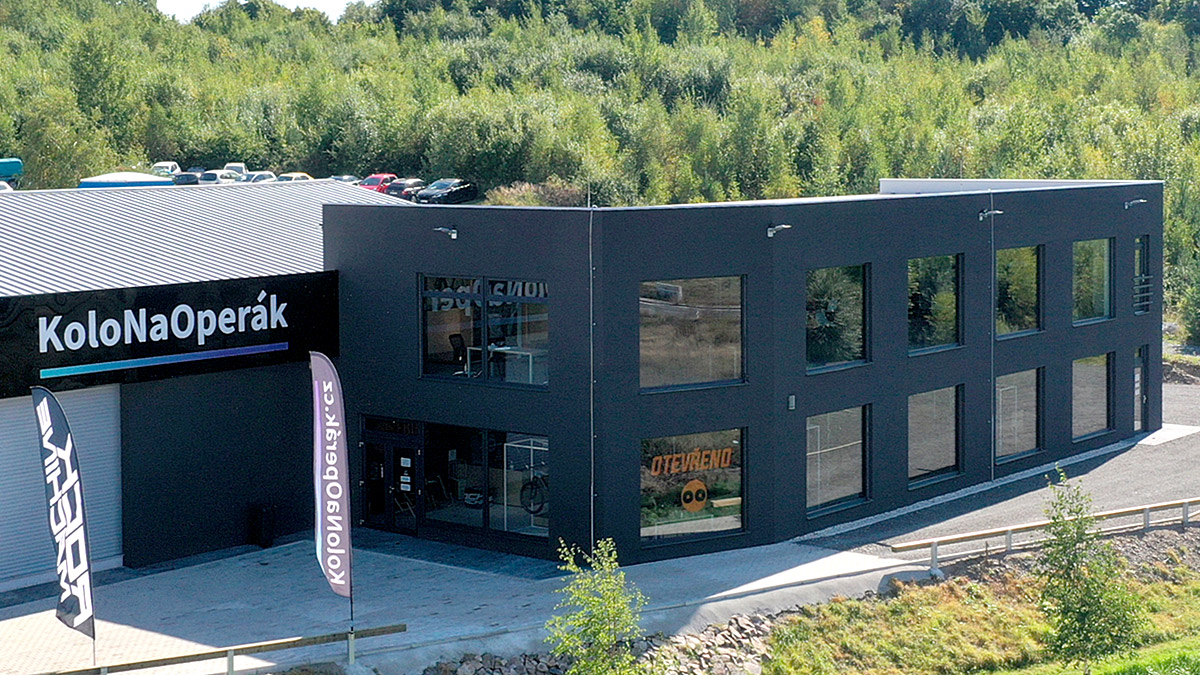 Where do you buy operational leasing bikes?
Take advantage of our partner's collection points
We have prepared a clear map with places where you can buy and pick up your new bike for operational leasing.
Go to map
Do you need more?
We can also provide your fleet with:
brackets
and stands
Chargers
and stations
GPS
modules
electronic
book rides
mobile
service
winter
storage